Does your project performance stink?
If the studies below are correct, then the answer is probably yes:
1. Only eight out of 100 organizations have a project success rate greater than 80%-Project Management Institute
2. Only 2.5% of companies successfully complete 100% of their projects – Price Waterhouse Coopers
3. The average cost overrun for IT projects is 27% – Harvard Business Review
4. One in six IT projects had cost overruns of 200% on average and a schedule overrun of almost 70%-Harvard Business Review
5. Cost overruns increased to 59% of all projects in 2012 from 46% in 2010- the Standish group
6. In 2014 $109 million was lost for every $1 billion spent on projects – Project Management Institute
Your experience may be better or worse, or your organization may just not keep track.
What is good project performance?
Typical project success criteria asks where you on time, on budget, and did you meet the project goals? For some of you, less than 60% of the projects meet all three.  In it's March 2013, Pulse of the Profession, PMI found that to be true for 22% of the organizations surveyed. These were characterized as  low performers. The impact of that performance is significant:  the average project risk was measured to be 28% of budget.  High performing organizations in contrast showed an average risk of 2% of budget.
How to get good performance?
So how do you move from low performer status to high performer?  How do you reduce that project risk down to 2%?  PMI's Pulse of the Profession identified three important steps.
1.  Focus on talent development. Improve the skills and capabilities of your project managers and project staff.
2.  Support standardization.  Embrace common methodologies and best practices across the organization.
3.  Align with organizational strategy.  Alignment is critical so that project work actually adds value AND alignment helps improve support from sponsors and stakeholdersThose steps are right in line with the purpose and function of a Project Management Office.  A Gartner survey indicated that almost 70% of organizations reported significant improvement to project success rates after implementing a PMO.  The PMI study, however, speaks to the need of a mature PMO and mature organization to gain high performer status and results. More on that in a future post.
Questions for you?
1. Do these statistics match your experience?  Have you seen better or worse performance?
2.  If changes to budget, time, or goals are properly approved through the change control board then are you still successful when you meet the newly approved requirements?  (Even if the original budget or timeline has been exceeded)
3.  What have you seen as the best approach to improving project performance in an organization?
Let me know what you think.  Thanks.
About Confoe: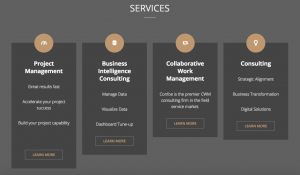 Follow Me: @opscoo & @savvypmo